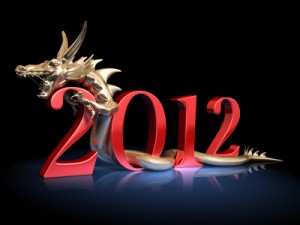 Happy Year of the Dragon!  Under the lunar calendar used by Chinese, Vietnamese, and some other Asian cultures, the new year begins January 23.  Like other Vietnamese families, my family celebrates the annual Tết festival –which is the most important holiday on the Vietnamese calendar. 
This is the Year of the Dragon – the fifth animal in the Chinese/Vietnamese zodiac.  The dragon is reputed as the most powerful and auspicious of the zodiac animals.  Dragons are ambitious, driven and full of energy.  They lead, rather than follow.  They are imaginative, take risks, and often signify change.  They bring passion to all things they do.  While dragons (like all of the zodiac animals) have their negative traits, their positive characteristics symbolize great success.
Although we all can't be born in the Year of the Dragon, we all can embrace its best qualities for our year.  In this year, don't settle for more of the same.  Pick some things in your life that could use positive change, sprinkle in some imagination and drive to implement, and the result will hopefully be positive changes in your life.  Embrace the power of your personal energy to accomplish something more for yourself – whether it be the next professional achievement, a career change, a personal goal, or more relationship building.  And by all means, do everything with passion – for life is meant to be lived with fervor.  If you embrace these great qualities of the dragon, this can be a year when you really SHINE.