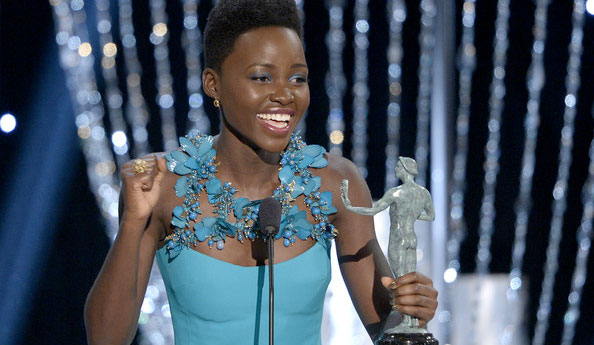 This past Saturday, the 2014 SAG Awards marked the next stop in Hollywood kudos season and another opportunity to rate winner acceptance speeches. After disappointing speeches at last week's Golden Globes, I was happy to see better winning words at the SAG Awards. Here are my scores (on a 10-point scale) for the most notable speakers.
BEST SPEAKERS:
Two ladies tied for my best speaker award.
Lupita Nyong'o – Female Actor in a Supporting Role, Motion Picture
(9 Speaker Points)
While taking her Actor trophy for 12 Years A Slave, newcomer Lupita Nyong'o spoke as if she had years of experience. Her speech was organized, succinct, thanked key people, and also wove in eloquent words about the brutal subject matter of her film. And though her speech was obviously prepared in advance (as it should be), Nyong'o spoke with spontaneity and heartfelt emotion – the mark of a great speaker.
In true top speaker fashion, the actress ended with a nice personal story about calling her father to report landing her first feature film role: "'Daddy, do you know who Brad Pitt is? I'm going to be in a movie with him!'" And he said, 'I don't know him personally, but I'm glad you got a job.'" Touching and funny in the same breath. If Nyong'o wins the Academy Award, I can't wait to see her speech for Hollywood's ultimate prize.
Rita Moreno – Lifetime Achievement Award
(9 Speaker Points)
In her excitement, Moreno began with a word that required bleeping. Her speech also gave call outs to man-crushes Jeremy Renner and Brad Pitt. So this 82-year old legend came on stage fired up and ready to go!
On a more serious note, Moreno recounted her 1962 Academy Award win for West Side Story and how her astonishment resulted in a very short Oscar speech. She then did something unique: she sang. Her first song included the simple lyrics: "This is all I ask. This is all I need." To wrap up, Moreno quoted her younger self (from her Oscar acceptance speech) saying: "I leave you with this" and launched into another song that declared "I will be . . . younger than spring."
Spontaneous, original, and memorable. It's a speaker win on my scorecard.
BEST USE OF HUMOR
Not surprisingly, the winners for actor and actress in a comedy TV series brought their funny to the podium. They tie for my award for best use of humor.
Julia Louis-Dreyfus – Female Actor in a Comedy Series, Television
(8 Speaker Points)
The sitcom veteran won for her starring role in Veep and did not disappoint with the comedy. Louis-Dreyfus started by saying "I'd like to begin by thanking members of the Hollywood Foreign Press for this glorious Golden Globe" – poking fun at her loss to Amy Poehler in the same category at the prior week's Golden Globe Awards. And then Louis-Dreyfus said it was an honor to be nominated for an Academy Award – which didn't happen for her this year (after being nominated for a Golden Globe for motion picture role in Enough Said).
Turning to the business of the moment, Louis-Dreyfus quickly gave appropriate thank you's and then departed the stage with humor.
Ty Burrell – Male Actor in a Comedy Series, Television
(8 Speaker Points)
Ty Burrell from Modern Family followed suit, finally taking the trophy after years of Alec Baldwin victories for 30 Rock. He gave a perfect example of when you should in fact memorize a speech word-for-word – when the words are just so good and so critical to the speech's impact. Burrell's speech was so well-written that I will let it speak for itself. It was clever, self-deprecating, and delivered appropriate thanks:
I know most of you out here tonight have read my book, Acting: How to Do It Good, but I thought maybe…I would just go back over my five simple steps to success.
1. Be born into a family that's never had an actor in it that way they think everything you do is cooler than it actually is, thus giving you a false sense of confidence.
2. Use that false sense of confidence to woo and trap a spouse that is better than you and is willing to overlook the fact that you have no apparent skill set other than being a needy extrovert.
3. Have no skill set other than being a needy extrovert.
4. Use that lack of skill to fail over and over and over again until you stumble into a job written by Chris Lloyd, Steve Levitan and our entire writing staff. Also at that job, make sure your coworkers are the cast of Modern Family.
5. Um [pause], have a knack for memorizing.
HONORABLE MENTIONS
Bryan Cranston – Male Actor in a Drama Series – Television
(7 Speaker Points)
Winning for Breaking Bad, Bryan Cranston brimmed with energy. He recounted that he's had "so many crappy jobs" before – such as loading trucks downtown – and the only thing that got him through was dreaming that one day he could make a living as an actor. Cranston concluded: "We are the luckiest people in the world that can say 'I am an actor.'" It's always great to recount the tough journey actors can often have before fame, and Bryan did it with vigor and honest exuberance.
Jared Leto – Male Actor in a Supporting Role, Motion Picture
(7 Speaker Points)
As expected, Jared Leto won for his portrayal of Rayon, a transgender woman living with HIV/AIDS in Dallas Buyers Club. He dedicated the award to everyone who has lost their lives to HIV/AIDS, and shared the trophy with transgender people (the "Rayons of the world").
While winners often "thank" their fellow nominees in somewhat obligatory fashion, Leto was smart to give a nod to one of the other nominees – the late James Gandolfini. He wrapped up by lauding his mother (the "hottest date in town"), for giving him a shining example of possibilities of life and for showing him the power of dreams.
All in all, it was a good effort. Leto would have scored higher but lost a point on my scorecard for too often (and too intrusively) referring to his notes on the podium.
LEAST FAVORITE SPEECH
Matthew McConaughey – Male Actor in a Motion Picture
(4 points)
Matthew McConaughey's work in Dallas Buyer's Club has earned rave reviews and a slew of awards. I wish I could say the same for his SAG Awards speech. After a Golden Globes speech which featured a few nice moments about his mom, his words this time were meandering – sounding almost like free-association slam-poetry. McConaughey tried to comment about the magic that actors can sometimes find in characters, and the importance of his film in addressing the HIV/AIDS crisis. Yet, somehow, a trip to Neptune got thrown into the mix.
Apparently, I wasn't the only one to get lost along the interplanetary trip. Cate Blanchett won the next award (for her motion picture role in Blue Jasmine), and managed to throw a dig at McConaughey. Just getting into her speech and talking about her return to film after years of theater work, Cate got a time signal to wrap up. She reacted: "29 seconds. . . Matthew McConaughey spoke about Neptune. . . I think I can have 5 seconds." Loud laughter in the room suggested that much of the audience agreed with Cate's take on McConaughey's trip to Neptune.
All in all though, the SAG Awards were a big step up from the Golden Globes when it came to good acceptance speeches. Now I can't wait for the ultimate awards show – the Academy Awards on March 2 – to see which winners can use their Oscar moment to also shine as great speakers.