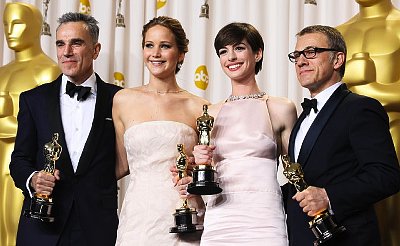 2013 Oscar winners in acting categories (c) Corbis Images
The Oscars have always been my favorite awards show. I love the movies, the red carpet glamour, and the celebrities. But most of all, I love the winner speeches. So for this edition of Speaker Points, I review acceptance speeches from some of this year's Academy Award winners. (Scores are on a 10-point scale.)
Best Speech: Daniel Day-Lewis for Best Actor 
(9 out of 10 Speaker Points)
Day-Lewis combined class with humor to give my favorite speech this Oscar night to accept his Best Actor trophy for Lincoln. With elegance, he acknowledged that the Academy had graced him with Oscar gold before (twice in fact).
And then Day-Lewis gave us intelligent humor courtesy of Meryl Streep, last year's Best Actress winner for The Iron Lady another film about a country's leader. Having just received the award from Meryl, he joked that he had been committed to playing Margaret Thatcher before the Lincoln role surfaced and that Meryl was Steven Spielberg's first choice to play Abraham Lincoln.
Day-Lewis then used eloquent words to thank the "apex" of three men — screenwriter Tony Kushner, director Steven Spielberg and the "beautiful mind, body and spirit of Abraham Lincoln."
He then concluded with the simple statement: "For my mother."
Combined with a great accent, those elegant and witty words add up to a winning speech for a winning actor.
Runner-Up: Ang Lee for Best Director
(8 Speaker Points)
In a surprise, Ang Lee took the Best Director trophy for Life of Pi (instead of the expected Steven Spielberg.) He responded with a speech that, while not especially creative, was effective in its charm and humility.
Lee began with a bow to the audience and "Thank you, movie god." And although he gave the obligatory recitation of people deserving recognition, he did so with grace and humility. Ang finished by noting that he could not make the movie without the help of Taiwan and people in India — a fitting way to recognize the international scope of his film.
But mostly Lee won style points by being genuine, humble, and earnest. Audiences always respond to authenticity, and Lee had that in spades.
Honorable Mentions (each with 7 Speaker Points)
Christoph Waltz – Best Supporting Actor 
Winning for his Django Unchained role as Dr. King Schultz, Waltz's speech was the epitome of short and sweet. After quickly thanking various people, Waltz devoted his remaining time to director Quentin Tarantino. He did so by invoking imaginative dialogue from his character in the film (Dr. King Schultz): "You scaled the mountain because you're not afraid of it. You slayed the dragon because you're not afraid of it and you crossed through fire because it's worth it." Elegant words always produce an effective effort.
Quentin Tarantino – Original Screenplay
Speaking of Tarantino, he showed us how to take a holistic approach. He gave a general shout-out to all the actors who help bring his written characters to life, but spared us the chore of naming each actor individually.
Tarantino then nodded to writers by saying this is a writer's year with strong nominees in both original and adapted screenplay categories. Brimming with personality, Tarantino walked to the stage with planned thoughts to express (as you would expect from a good writer) but he delivered them with spontaneous energy. (Anne Hathaway, I'm talking to you).
Jennifer Lawrence – Best Actress 
Lawrence followed a golden rule of speech — don't ignore the elephant in the room. On her way to the stage, she fell on the stairs. Rather than ignoring the obvious snafu, the actress turned error into humor by saying the audience gave her a standing ovation merely because she fell. When things don't go as planned in a speaking situation, always be ready to laugh at yourself.
Grant Heslov and Ben Affleck – Best Picture
Accepting the Best Picture Oscar for Argo were producers Ben Affleck, George Clooney and Grant Heslov. Speaking first, Heslov addressed the elephant in the room — Affleck's omission from the Best Director nominee slate. He emphasized that Affleck's role as not just producer but as director.
With his turn at the microphone, Affleck raced through (too quickly) his list of people to thank. But then he used an effective speech tactic — referring back to a past similar moment. Affleck noted that he on was the Oscar stage 15 years ago (when he and Matt Damon won Best Original Screenplay for Good Will Hunting), but was a kid and didn't know anything. For a career that has seen him bounce back from bad career moves such as Gigli, Affleck thanked people in Hollywood who helped him throughout the years. He concluded with poignant thought: "it doesn't matter how you get knocked down in life; all that matter is that you just gotta get back up." Ending with a life lesson always leaves the audience with a good feeling and food for thought.
Least Favorite Speech: Anne Hathaway – Best Supporting Actress
(4 Speaker Points)
Anne lived up to expectations by winning for her role as Fantine in Les Miserables. As much as I love Anne as an actress and personality, she has disappointed throughout this awards show season. At each of her wins, Anne has spoken with "I'm acting genuine" feigned emotion. She did so again on Oscar night. And she has done at prior awards events, Anne made too clear that her speech was memorized. Knowing your speech is necessary, but the delivery should still ring as fresh and "in the moment."
Substantively, Anne fell into a common trap. She took the boilerplate approach of acknowledging fellow nominees and then rattling off a list of people to thank. Sure, that makes everyone feel acknowledged but hardly shows any creativity when you have a global stage.
Anne somewhat salvaged the moment by closing with a poignant (but still somewhat feigned) thought. She expressed hope that misfortunes of people like her character Fantine would only be found in stories and no longer in real life. A decent closing to add depth, but felt tacked onto the otherwise unrelated thank you list. Sorry Anne — I adore you but your Oscar speech only scored a 4 on my scale.
Your Turn
For the next time you find yourself receiving an award, learn some lessons from this year's Academy Award acceptance speeches:
Starting with humor is good.
Avoid doing a roll call of every single person to thank. Be holistic or pick a few key people, and use some creativity in how you talk about them.
Rehearse what you will say (and memorize if you can), but deliver your words with freshness.
Don't ignore mishaps that happen in the room; acknowledge them and you'll appear spontaneous.
A poignant message or a life lesson delivered with some elegant words is always appreciated.
Above all else, be authentic!