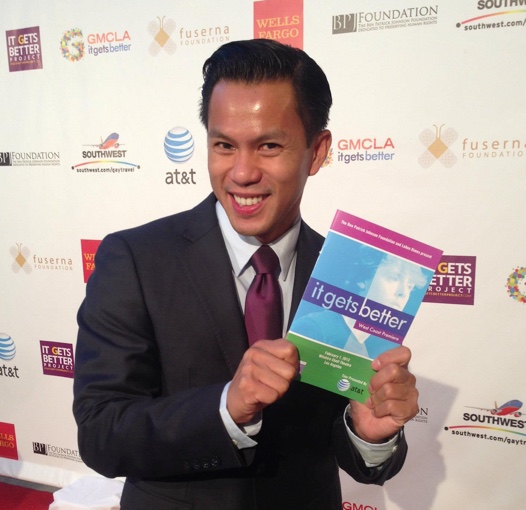 Jimmy Profiled by 10,000 Couples Online Magazine
In March, 10,000 Couples' associate editor Heidi Mann published a profile of Jimmy regarding his role in bringing the "It Gets Better" videos to the stage. Read an excerpt of the article here and read the entire article on the 10,000 Couples web site.

Article Excerpt:
You've all heard of the It Gets Better Project™. But how about the it gets better Tour? The latter is fresh off a successful month of life-changing performances. Tour representatives expressed excitement prior to the multi-city run "that the performances [would] initially be in communities where LGBT youth can be particularly isolated, and where the 'it gets better' message is so desperately needed."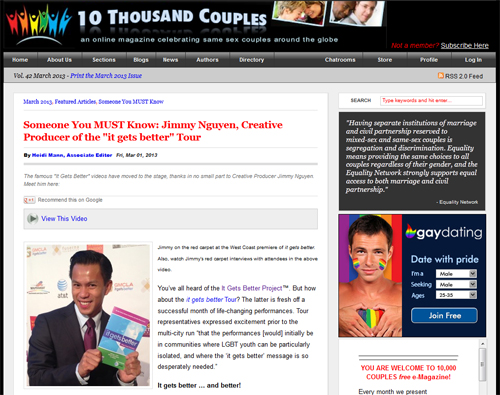 It gets better … and better!
Only two and a half years ago, Dan Savage and husband Terry Miller posted the first "It Gets Better" video on YouTube, hoping to encourage LGBT teens experiencing bullying to hang on, because life would get better. Today, more than 50,000 individuals and groups, some famous and some not, have created "It Gets Better" videos, generating over 50 million total views. The Gay Men's Chorus of Los Angeles (GMCLA) was among them with its version of Cyndi Lauper's "True Colors." It went viral.
That's when Jimmy Nguyen, a prominent entertainment and new media lawyer, equal rights and diversity advocate, and media commentator, got drawn into the mix by a close friend, Liesel Reinhart, who is a board member for the GMCLA and found herself inspired by their video. Jimmy recounts: "In late 2011, Liesel called me to share her vision [of a show blending theater, music, and multimedia to spread the 'It Gets Better' message]. She asked if I knew anyone involved with the It Gets Better Project because she and GMCLA wanted to get rights to produce a musical stage work based upon the online project. It so happened [in an unlikely example of the "small world" phenomenon] that Seth Levy, one of my then–law partners, helped run the It Gets Better Project. So the next day, I stopped by Seth's office to present the idea and scheduled a follow-up meeting with Liesel and GMCLA representatives. They worked out an agreement, and we were off and running to create a stage show."