Today was a much shorter judging day than Day 1.  We conducted personality interviews for the last 1/3 of the contestants.  That took about 2 hours to complete.
During a break, I decided to have a bit of fun and take my own turn behind the podium provided for contestants.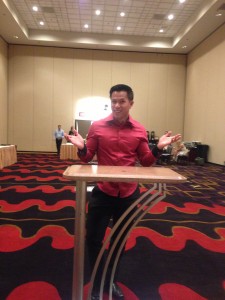 Once the personality interviews were done, I realized there are many strong delegates this year.  I think there is an even greater number of top contenders than when I prelim judged last year's pageant.  Making judging decisions this year will be even tougher. 
While the decision-making is tough, the interview process provides some fun as well — listening to not just the contestants, but also my fellow judges.  In particular, it was wonderful getting to know Crystle Stewart (Miss USA 2008) and Beverly Frank from 19 Entertainment (another lawyer on the judging panel!).  They both exude grace and warmth.
After a break to catch up on my law life, I made a visit to the Miss Universe Organizations' production "office."   A large room with a bunch of tables, equipment, phone lines and computers, it's not glamorous – but provides the functional space for the team to handle the challenging work of running the pageant.  There, I got to say hello again to Andrea Chafouleas, who works for the Miss Universe Organization as Manager, Talent Development.  She has done a terrific job taking care of the judges' needs.
I also got to see the collection of contestant sashes.  It was practically a geography test to look at the country names – and reminded me of the global reach of this event.
With prelim day 2 done, I'm now eagerly awaiting the Presentation Show.  It's time for the main stage, lights and showmanship to wrap up the preliminary competition.