A Childhood Pageantry Dream Come True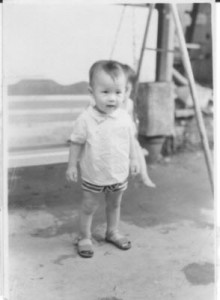 I'm honored and thrilled to serve as a preliminary judge for the 2011 Miss Universe pageant in Sao Paulo, Brazil.   As I take this fun journey, I wanted share my adventures as a competition judge and as a first time visitor to exciting Sao Paulo.  Here you will find my writings and video commentary about "The JimmyWin Experience" at Miss Universe 2011.  For me, this experience is about more than just judging a beauty pageant.  It's a WIN for getting to live out a childhood dream.
Some boys pretend on the playground to score a winning Superbowl touchdown.  I, on the other hand, ran mock beauty pageants . . . with stuffed animals. . . and made my sister Patty judge them.  Perhaps that was an early clue that I was gay.
I was always fascinated by beauty pageants.   My mother watched pageants when they came on TV; she liked seeing all the pretty women.  As a young boy, I sat right alongside her.  While I was certainly drawn by the glamour and gowns, I was more enthralled by the pressure of the interview phase and the sheer drama of competition.  And I would root for contestants who exhibited both beauty and brains.
Of all the pageants, Miss Universe was far and away my favorite.
I loved its international aspect featuring women from all over the world.  It was a veritable United Nations on stage in heels and swimsuits.  OK, so the delegates weren't achieving world peace in their sequined evening gowns (but, what lovely sequins they were!)  But they did present faces from many countries, ethnicities and cultures across the globe.
The diversity of those faces spoke to me. Being part of an immigrant family to the U.S. and a racial minority, as a young child, I was quite aware that Asian faces (or faces of other racial minorities for that matter) were notably absent on television.  But at the Miss Universe pageant, I could see them, and hope some might advance towards winning the title.  While many world beauty title winners are of Caucasian descent (and would often get my vocal support too), Miss Universe presented one stage where I could see more of the world's diversity reflected.  That was, and continues to be, a beautiful thing.
Years ago, I tried to replicate the diversity and thrill of Miss Universe in my childhood bedroom.  My sister Patty and I had a huge collection of stuffed animals.  We gave them all names, personalities, and even a fictional city in which to live (Purfland).   And I decided to give them a beauty queen – periodically running the Ms. Purf pageant.  (Clearly ahead of my political time as a youngster, I chose to name this a "Ms." rather than "Miss" competition.)  At my behest, my unsuspecting sister Patty had to sit and judge the competition.  I gleefully trotted out teddy bears, bunnies and actual humanoid dolls in the finest evening gowns I could fashion from towels to wrap around them.  If a contestant was really lucky, she got more elaborate fabrics.   And I had a blast doing it.
As I am about to close out my 38th year of life and begin my 39th, my life has come full circle.  That was my first thought after I got the call inviting me to judge preliminaries at Miss Universe 2011.  This is a childhood pageantry dream come true.
I have many childhood aspirations to fulfill, and most are probably far more important in life than serving on a pageant jury.  But being a judge at Miss Universe confirms for me that hard work and building a strong career profile will bring opportunities you might never expect.  It says the diversity of my background has value to helping select the young woman who will be a role model across international boundaries.  And it makes me believe that our inner child is always present, waiting to attract what is meant it for by the universe.
Clearly, my inner child was meant to get to this metaphorical and literal stage.  As the pageant unfolds, I'm excited to absorb the whole experience.  And you can bet that I'll be looking out for those young ladies who truly SHINE. SPEAK. WIN.