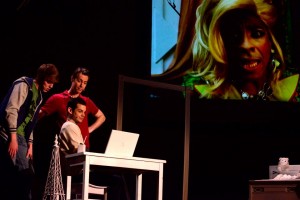 What would you think of an Internet project that comes alive on stage as a music and theater production?  
If you were at the Wilshire Ebell theater in Los Angeles on February 1, you'd give a resounding Facebook "Like."  That night, a sold-out audience gave standing ovations to the West coast premiere of it gets better, the new touring stage work aimed to stop bullying of LGBT youth.  Much like the online It Gets Better Project on which it is based, the show engages community interactivity to convey its message.
The renowned It Gets Better Project was birthed in September 2010.  That's when columnist Dan Savage and his husband Terry Miller wanted to respond to a wave of suicides by gay teenagers who were bullied.  Wishing they could have talked to some of those kids, Dan and Terry created a YouTube video telling LGBT youth to hold on because "it gets better."  
Those three simple words sparked an Internet phenomenon.  Today, more than 50,000 user-created "it gets better" videos have generated over 50 million total views.  President Barack Obama, Hillary Clinton, and many other renowned personalities contributed their own videos.
The cyber-phenomenon now takes new life on stage in a show written and directed by my dear friend Liesel Reinhart.  Liesel serves on the Board of Directors for the Gay Men's Chorus of Los Angeles, which created its own "It Gets Better" video by filming the chorus singing in a church to Cyndi Lauper's "True Colors."  That video went viral and has generated over 770,000 views.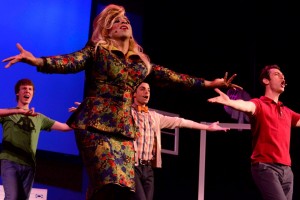 It inspired Liesel to envision a show blending theater, music and multimedia to spread the "It Gets Better" message.  The show would be a co-production of Gay Men's Chorus of Los Angeles, the It Gets Better Project, and Speak Theater Arts.  Liesel called me to share her vision, and I jumped on board to help produce.
That was over a year ago, and our team has done so much work since then.  Just like the It Gets Better Project depends on Internet users to contribute through video postings, the it gets better show activates communities.  First, we had to raise money to fund development costs.  This is where I get to thank the amazing Randi Zuckerberg.  On a leisurely walk to get coffee, Randi gave me the idea to launch a Kickstarter campaign to raise the money through crowdfunding.  And that we did, raising over $78,000 backers to become the most-funded theater project in Kickstarter history!  548 backers from communities across the U.S. and even from foreign countries stepped up to contribute.
With money raised, Liesel, music director Morten Kier and other team members turned to the grind of developing the production.  We held auditions and cast the six performers (Jason Currie, Tyler Houston, Tod Macofsky, Mario Mosley, Sacha Sacket, and Drew Tablak).  Liesel wrote the script, which follows the story of a gay teenager, who is helped by characters who spring to life from computer screen to stage from "It Gets Better" videos.  
The cast of six performers also step out from their characters to share with the audience their own real-life "It Gets Better" stories.  We went through the music clearance process to obtain rights to use some well-known songs, had a few original songs written, and even conducted a public song-writing contest online.
"All the Pretty Boys" song performed by "it gets better" show cast
[youtube]http://www.youtube.com/watch?v=M3Uqd-u4-MA[/youtube] 
(song written by Sacha Sacket; show written/directed by Liesel Reinhart for GMCLA)
As the show was being developed, keeping in mind its intended audience was key.  The production was conceived to tour around the country – not just to gay meccas, but to smaller cities and towns where LGBT youth most need help.  That's why the tour opened in Iowa City last October and has Lawrence, Kansas on the itinerary.
And that's why the most valuable part of the tour may not even be show.  In each stop, the stage performance is preceded by a week of outreach activities to engage community action.  At the Iowa City premiere last October, the cast visited gay-straight alliances at high schools (where one of the groups is superbly named GLOW – Gays, Lesbians Or Whatever) and spoke to graduate education students at the University of Iowa about teachers' responsibility to create a bully-free learning environment.  Last week at Pennsylvania State University, the group spoke before a packed lecture hall to hundreds of students in a sociology class where the teacher encouraged live tweeting.  After performances, the cast holds Q&A sessions with the audience to create dialogue.
During the show itself, the community is brought on stage, both virtually and literally.   Voices of some local residents are heard when their own It Gets Better videos are played, and they are brought up to speak directly to the audience.  In one of the most powerful moments, a local choir arrives on stage to tell LGBT kids that "You Have More Friends Than You Know."  That incredible song was specially written for the show by Grammy-winning songwriter Merv Warren and Tony award winning co-creator of Avenue Q, Jeff Marx.  At the West Coast premiere in Los Angeles, it was sung by the Gay Men's Chorus of Los Angeles and sparked a standing ovation – before the show was even over.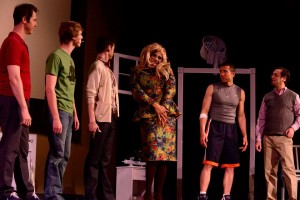 With these novel twists, the it gets better tour acts much like user-generated content in the Internet world.  It does not just speak to a passive audience; it depends on the public to interact and engage.  And it asks the all-important question – once the show leaves, what will local residents do to help their LGBT youth?  When it gets better comes to the heartland, it doesn't have all the answers.  The answers already lie somewhere within each community, and the tour's job is to motivate residents to continue the dialogue after the travelling troupe packs up its last costume.  For it is the local residents who must talk face to face with the bullies, who must open the minds of intolerant neighbors, and who can show gay kids they have more friends than they know.
Speaking of more friends than you know, there was an entire theater filled with them at the show's West coast premiere – which was both a fundraiser and celebration of the work done by GMCLA and so many others on this project.  Supporting that event on stage were celebrities Lily Tomlin, Jai Rodriguez (from Malibu Country), Pauley Perrette (from NCIS), Dot Jones (from Glee), Olympic champion diver Greg Louganis, and jazz saxophonist Dave Koz.
Before the show, I was lucky to be on the red carpet to interview celebrities, and learned that some of them (like Dot Jones and Greg Louganis) suffered through bullying when they are young.  I was also impressed by straight allies like Pauley Perrette, who is a vocal supporter of LGBT rights.
[youtube]http://www.youtube.com/watch?v=LnlLwq7QWB8[/youtube]
 Indeed, it has been reaction from straight audience members that most strikes me.  After the Iowa stop, the University of Iowa Teacher Leader Center posted this note on the tour's Facebook page:  "You inspire, you lead, and you remind us that we have a tremendous obligation to make schools and classrooms safe for all kids."  In response to the West coast premiere, one of my straight friends posted onto my Facebook page:  "Great production.  Important show.  Inspiring.  Could be life changing."  Another straight friend emailed me the next day:  "I can't stop thinking about that amazing experience yesterday . . . I wish everyone I know could see it.  I hope and believe it will change a lot of lives."
This month, the it gets better tour goes off in earnest to hopefully change lives.  The month of February will be spent at Pennsylvania State University, in Lawrence, Kansas and then to Seattle, Washington.  More dates will hopefully be booked for the fall and on through 2014.
Everywhere the show goes, I hope it sparks local communities to speak up against bullying of LGBT youth.  After all, that's why the touring production is much like the Internet world from which it is born.  It relies on the voices and creativity of individual users to change the world by saying "it gets better."
For information about the it gets better tour, go to:  http://www.itgetsbettertour.org/ or its Facebook page at https://www.facebook.com/ItGetsBetterMusical
All photos courtesy of Daniel G. Lam Photography.