Jimmy Publishes Article on Dot Complicated
Jimmy authored the following piece for Dot Complicated, the new e-newsletter and web site from Randi Zuckerberg. This article, published in February, focuses on how community engagement helped bring "It Gets Better" to the stage and to audiences around the country.
Read an excerpt here and the entire article on Dot Complicated
How The Internet Made A Charity Theater Production Come To Life
Community Engagement Helps Internet Project Come Alive
What would you think of an Internet project that comes alive on stage as a music and theater production? If you were at the Wilshire Ebell theater in Los Angeles on February 1, you'd give a resounding Facebook "Like."  That night, a sold-out audience gave standing ovations to the West coast premiere of it gets better, the new touring stage work aimed to stop bullying of LGBT youth. Much like the online It Gets Better Project on which it is based, the show engages community interactivity to convey its message.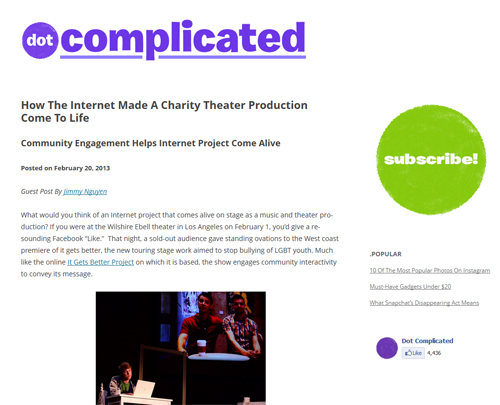 The renowned It Gets Better Project was birthed in September 2010.  That's when columnist Dan Savage and his husband Terry Miller wanted to respond to a wave of suicides by gay teenagers who were bullied.  Wishing they could have talked to some of those kids, Dan and Terry created a YouTube video telling LGBT youth to hold on because "it gets better."  Those three simple words sparked an Internet phenomenon.  Today, more than 50,000 user-created "it gets better" videos have generated over 50 million total views.  President Barack Obama, Hillary Clinton, and many other renowned personalities contributed their own videos.
READ REMAINDER OF THE ARTICLE HERE