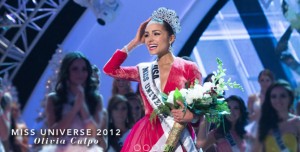 Last week, Miss USA Olivia Culpo captured the Miss Universe 2012 crown.  Her win culminated two weeks of pageant events, including a preliminary competition that I had the honor to judge for second year.   My favorite part is interviewing all 89 contestants from around the world.  I get to speak with young women from so many different countries, languages, and cultures.  Amidst this global diversity, one common piece of advice emerged from many of the interviews:  "Be yourself."  Whether you aspire to be Miss Universe or explore the universe as an astronaut (or both!), it's a life lesson for becoming a WIN GIRL. Read more...
Clothing can speaks volumes about a culture. That's why I was so excited last Friday to watch the National Costume Show at the Miss Universe 2012 pageant. Although the National Costume Show was shown on livestream this year, it historically has not been broadcast in full on television. So this was my first time watching the full costume parade in full and in person. My reaction was a simple "Wow."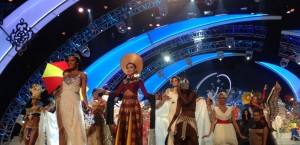 Read more...
Two big nights in a row played out on the Miss Universe 2012 stage. 
First, I had the joy of sitting in judge's row for the Presentation Show – where the contestants competed in Evening Gown and Swimsuit to finish the preliminary competition. Watch my recap of this dramatic evening.
<
The following evening, the contestants had fun in the National Costume Show. I like how this costume parade allows the delegates to let loose and show off some dance moves. There was a wide array of costumes – from slim elegance, to big drama. Most of all, I love how this National Costume show displays expressions of diverse cultures from so many countries around the world. Seeing so much diversity is one of the great things about the Miss Universe experience. Watch my recap. Read more...
One of the best parts of being a Miss Universe preliminary judge is getting to know the other judges and the superb team behind the pageant. The night of the Presentation Show ends the preliminary competition at Miss Universe 2012, and it is also the last time all the preliminary judges are together. So I took the occasion to grab pictures.
I had fun all week with Carlos Anaya. The diversity advocate loves that he acts a media presence for bicultural Latinos. Check out his MY LifeStyle Magazine, with 2011 Miss Universe Leila Lopes on the current cover. Read more...
Thursday, December 13 saw the final portion of preliminary competition at Miss Universe 2012. That's where the lights, cameras and glamour happened on stage for the "Presentation Show." This was my second time judging, and the Presentation Show was just as exciting for me as it was in Brazil last year. Again, the show was livestreamed online; if you missed it, you can watch it on the Miss Universe channel on YouTube.
Speaking of the stage, it looked stunning. The lighting design was elegantically dramatic, and the holiday visuals added a festive touch given the late time of year. Read more...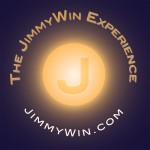 Check out these 3 videos from my experience on Prelim Day 2 at Miss Universe.
First, as Prelim Day 2 began, I speak with Andrea Chafelous from the Miss Universe Organization and fellow prelim judge Crystle Stewart (Miss USA 2008).
Then, after personality interviews were completed on Prelim Day 2, I speak again with Crystle and another prelim judge – Beverly Frank from 19 Entertainment.
Finally, after judging duties for the day were done, I paid a visit to the production "office" for the pageant. While Miss Universe is all glamour on television, behind the scenes, it's not always so glamorous – but filled with hard work . . . and lots of work station tables!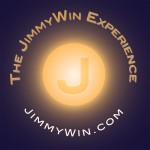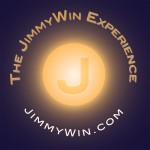 During prelim day 1 at Miss Universe 2012, I got a moment to speak with fellow judge Carlos Anaya. Carlos is an expert in biculturalism. He is the host for "MY Lifestyle Extra" on Fox News Latino, and the managing editor for MY Lifestyle Magazine – the first boutique publication for chic bicultural Latinos in New York. He's also a very funny guy who is a sharp dresser! Watch what Carlos had to say about the Miss Universe contestants.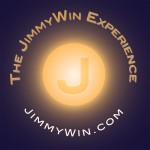 Today was a much shorter judging day than Day 1.  We conducted personality interviews for the last 1/3 of the contestants.  That took about 2 hours to complete.
During a break, I decided to have a bit of fun and take my own turn behind the podium provided for contestants.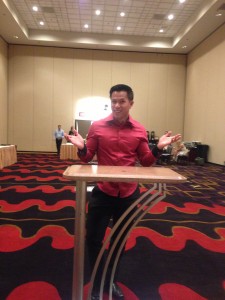 Once the personality interviews were done, I realized there are many strong delegates this year.  I think there is an even greater number of top contenders than when I prelim judged last year's pageant.  Making judging decisions this year will be even tougher.  Read more...