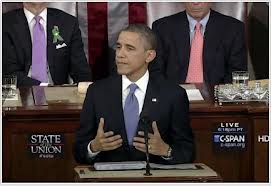 Recently, President Obama gave his annual State of the Union address and his first since being re-elected.
Pundits have since debated the political ramifications of the event. But in this first "Speaker Points" piece, I want to examine whether it was an effective speech, and what lessons you can learn for your own speaking lives. The President has always been a powerful orator, and this time was no exception. For another solid job, I give him 8 speaker points (out of 10).
Let's start with what the President did well.  Read more...