President Barack Obama is bestowing the Presidential Citizens Medal (the second-highest civilian award in the U.S.) to Jeanne Manford.  Jeanne founded PFLAG (Parents, Families and Friends of Lesbians and Gays) , and was a gay rights pioneer.   She passed away in January at age 92, so the award will be accepted by her daughter Suzanne Manford Swan.  It's a WIN For all the parents, families and friends who supported LGBT people SHINE.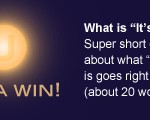 California Governor Jerry Brown signs law (SB 1172 sponsored by State Senator Ted Lieu) banning gay reparative "therapy" for minors.  It's a WIN for letting LGBT youth shine exactly who they are!
President Obama completes his "evolution" and publicly backs same-sex marriage rights.  It's a WIN for equality!
Meryl Streep gets Golden Globe award for lead actress in a drama for "The Iron Lady."   It's a WIN for the legend! 
President Obama nominates Judge Jacqueline Nguyen to 9th Circuit Court of Appeals. It's a WIN for the Vietnamese-American journey!
Congrats to the 2011 Miss Universe – Leila Lopes. It's a WIN for Angola and authenticity!
Congrats to Adam Lambert, Facebook & NY Assemblymember Daniel O'Donnell on their awards at EQCA's LA Equality Awards. They WIN for equality.
Congrats to NY for recognizing same-sex marriage!!! It's a WIN for equality and love! 6 states down.
SCOTUS rules police must consider minor suspect's age to decide whether to give Miranda rights. It's a WIN for justice.
UN resolution endorses rights of LGBT people for first time. It's a WIN for global equality.