The JimmyWin Experience
JimmyWin.com is the web site of Jimmy Nguyen – award winning digital media & technology lawyer, speech expert, diversity advocate, motivational speaker, and media commentator.
A gifted public speaker with shining energy, Jimmy was a national speech champion in college; he won events so often that he earned the nickname "JIMMY WIN" (because his last name is pronounced like the word "WIN.") Since then, Jimmy has a life history of helping others speak up in their lives, in their communities and in the world. His hope is that everyone learns to SHINE. SPEAK. WIN.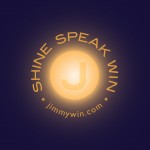 Here at JimmyWin.com, you will find SPEAK UP WITH JIMMY, a web series which covers people and topics to help everyone speak up, speak out and speak well.
In THE WIN COLUMN, Jimmy writes about law & politics, issues affecting LGBT persons, racial minorities & diversity, digital media, and life advice.
All of Jimmy's commentary revolves around the central ideas that you win in life by embracing everything authentic about you, by shining who you truly are, and by learning to speak up.